Thank you for supporting the Annual Catholic Appeal and the over 60 ministries through the Archdiocese of Seattle in western Washington!
Our current ACA pledges for 2016. Any donations above our goal are returned to the parish in the form of a rebate. This year, our rebate will go to support our Parish Capital Maintenance Fund. This fund is used to pay for maintaining our beautiful campus and all the buildings as things fall into disrepair or need replacement.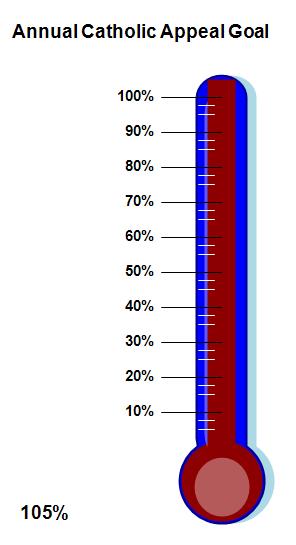 Click on ACA logo below to make your pledge today!
Annual Catholic Appeal Year-End Payments and Donations
Want to make your Annual Catholic Appeal payment or donation by year-end for tax purposes?
Any payments or new gifts you want credited to the 2016 calendar year for tax purposes need to be in the Annual Catholic Appeal office by December 31st. (Please do not put ACA payments in the parish collection basket)
• New donation – www.seattlearchdiocese.org/donate
• Payment on existing pledge - www.seattlearchdiocese.org/pp for immediate processing
• Set up a new gift or payment - call 800-809-4921
• Send mail to - Annual Catholic Appeal, 710 9th Ave, Seattle 98104 (postmark must be stamped by Dec 31, 2016)
• Donate stock – donating to a non-profit can save you from paying capital gains tax of the appreciated value if you've held the stock for at least year. Call 206-382-4845 for further instructions/details on donating stock.
• IRA - If you are 70½ or older, there are potential tax benefits when you transfer funds from your IRA to the Annual Catholic Appeal – contact your IRA plan administrator
Annual Catholic Appeal Matching Gifts
Thank you to those who have already fulfilled your Annual Catholic Appeal pledge!
If you would like to help maximize our Annual Catholic Appeal Rebate this year for our parish project, please check if your employer has a Matching Gift program. Once your gift has been paid in full or as payments are made, you can apply for the match per your employer's instructions. The Annual Catholic Appeal, Archdiocese of Seattle, is a tax-exempt organization under Section 501(c)(3) of the Internal Revenue Code. Tax ID # 91-0778147. Call 800-809-4921 if you have any questions. Mailing address: Annual Catholic Appeal, PO Box 14964, Seattle 98114